Product Designer Another Great Tool from Peexl
Last few years estimates indicate constant growth of consumer demand for personalized products.
Every day a lot of people order unique printed items as promotional goods or creative presents, for branding event, to create sports team uniform or fan t-shirts.
To meet increasing retail demand, smart shop owners are looking for a tool to start a new niche of their business immediately, that allows their customers design items online.
Product Designer extension by Peexl came out as simple, responsive and fast money-making instrument for creating customized products. This easily integrated with Magento platform extension is perfect for shops, which sell products suitable for personalization. It is complete e-commerce solution for online stores to start their own customized line quickly.
What Exactly Product Designer by Peexl Let You and Your Customers Do
Main Features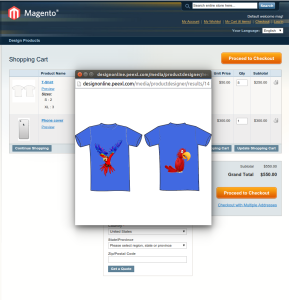 Product Designer provides user-friendly and simple front-end interface, which makes  designing process easy and comfortable for customer. Clients won't leave your web-store being irritated by complicated steps.
– Customer can see both sides of the product
– Preview from the cart – easy way to see details from shopping cart from checkout page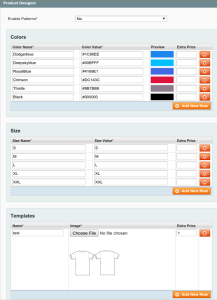 Back-end interface has enough options to start a new service in no time
– Admin can add product colors and sizes
– Admin can upload unlimited variety of templates according to the products which offers a web-store
– No limit to images that can be uploaded to the library by admin
– Preloaded fonts (as seen on demo)
– Ability to upload unlimited number of fonts by admin
  – User-friendly interface
– Easy way to upload a desirable image from customer's PC
– Freedom to drag, rotate or resize images
– Control of text alignment: clockwise or anti-clockwise rotating, dragging
– Text designing options: adding effects and color
Choosing Product Designer by Peexl you will immediately get a new service at your online store. Fully integrated with Magento, this extension has enough features to personalize simple products to explore new niche and attract more customers.
Get ahead of competitors with our Product Designer Magento module.