Bundle Creator – the unique extension solving various problems in ecommerce
Product bundling is one of the most effective marketing strategies. It is not only a tool to drive online sales, increase profit by stimulating customers to buy more products at a time. It is also a good way to clear valuable warehouse space from merchandise that is slow moving.
Based on our clients' needs we released the extension Bundle Creator, which combines groups of products from a store. There are some benefits useful not only for merchants, but for customers, as well.
Selling items more efficiently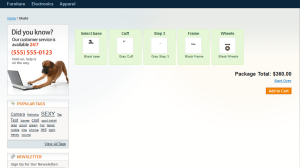 Bundling products is a common practice to motivate customers to purchase two or more different products at the same time.
Bundle Creator extension will let your customer create his own individual bundle of products from your store. For example, a bundle offer can consist of 1 dress + 1 pair of shoes for $100.
Unlike default Magento bundle, our extension gives customers the flexibility of choosing their own products from pre-determined categories. So, a customer will be able to choose a dress from a list of 20 dresses, and combine it with one of the 20 pairs of shoes offered.
The extension allows an unlimited number of product combinations and bundles.
Great opportunity to get rid of slow-moving inventory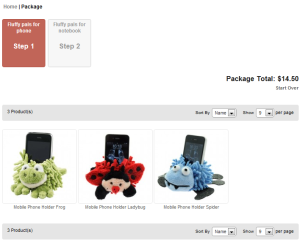 Slow-moving inventory is costing ecommerce business by tying up both cash flow and expensive warehouse space.
Bundle Creator is definitely a perfect tool in developing a liquidation strategy. It makes possible to sell at one time those items, which would probably be never sold in other circumstances. Just put them in a bundle with high-profit or fast-moving products and sales go up.
 Increasing customers' loyalty
It is possible to use Bundle Creator not only for getting profit but also for increasing customers' loyalty and online store conversion.
Creating bundles from high-valued products and small free items can be a certain way to increase sales as well as to thank (please) your customers and helps stimulate repeat purchases.
Simplifying the process of gathering sets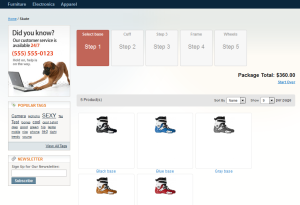 Sometimes customer has to select different parts to make purchase, which takes a lot of time and requires some knowledge. For example, if it is skateboard or computer which consist of different parts.
Bundle creator permits a customer to build an end-product fast and easy. Selecting various products from predefined product groups, the customer would be able to combine everything into a single order, or the so-called "bundle". A special price can be set for the bundle, offering the customer a better deal than in the case of individually purchased products.
The customer can do everything on one page, comparing details, information and price of each item and finally add bundle to the cart.
Motivation by free shipping
Creating bundles increases the value of purchase which allows customers to get it without spending money for delivery. They more likely order it then just spend money on shipping.
Don't miss the perfect tool to drive your sales and improve customer experience.